COMPANY HISTORY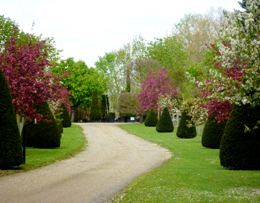 The Romantic Garden Nursery is situated in the village of Swannington in the heart of Norfolk and started life in the spring of 1991. Itís name was derived from Swannington Manor Gardens (next door), which had been open to the public between 1985-1990 and was once described as ĎEast Angliaís most romantic gardení.
Having decided on a suitable location our first job was to remove the resident horses from the field. We then set about dismantling paddock railings & fences, and from scratch set out and built the nursery including glasshouses and installing all the electric, phone and water supplies needed.
Having set out to grow and supply small to medium size plants, we soon realised the demand for much larger plants including shrubs, trees and topiary. Customers were keen to create instant impact in their gardens and didnít want to wait for plants to grow. If anything this trend still continues today as our stock seems to get larger each year, as we now find supplying plants in 250ltr to 500ltr pots a common occurrence.
As well as local customers we now have customers all over the UK and have developed into a business with a national reputation, and have even exported as far afield as Japan.
We have exhibited at many national flower shows including the Hampton Court Palace Flower Show and The Chelsea Flower Show, and have been awarded ten RHS Gold Medals. We also supply plants to landscapers & garden designers for their own gardens at shows, and have often grown plants especially for garden designers for several months in advance to use in show gardens.
The nursery is also home for Brian Turnerís bespoke lead planters and fountains, which can be seen working at the nursery.
We are always keen to expand and improve the stock we offer to our customers which is why we deal with many different growers scattered all over Europe, and are always looking for new growers offering something unusual. We try and visit the growers so we can personally select the stock and discuss customerís requirements.
A personal visit to the nursery is by far the best opportunity to see the full range of plants available, and sample the friendly service for which we have become renowned for. If that is not possible then we are very happy to do what we can via email with the use of photos etc.
We are always trying to improve the nursery site as well as increasing the range of plants we sell, so itís well worth checking the availability of new stock if you canít see what you want listed within the catalogue.
ABOUT TOPIARY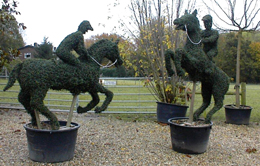 Topiary comes in many different shapes & sizes. Some are traditional some quirky.
The Latin word for a landscape gardener is topiarus from which the word topiary is derived. Topiary is often defined as 'the art of shaping trees and shrubs into ornamental forms by clipping and training.' The origins of the word encourage the view that it is much more than that and yet topiary and plant sculpture, whilst featuring in the grandest gardens of the past, is available for the smaller gardens of today
From ancient writings it has been established that topiary has been practised for at least 2,000 years. In Roman Britain clipped box was used in the villas of the rich, often spelling the name of the master or topiarist or as edging for complex patterns, defining the various sections of the garden. During the Middle Ages, after the Romans had left, topiary seems to have been confined mainly to monasteries and plants were often trained and clipped into simple shapes on withy frames. The first real topiary revival took place in early Renaissance Italy but, in Britain, it wasn't until Tudor times under Henry VIII that interest was developed again. During the reign of Queen Elizabeth I and until the reign of Queen Anne in the 18th century, it became really popular. From simple topiary shapes - spheres and cones for example - to complex human figures, animals, porticoes, temples, vases, urns; almost any plant was subject to experiment but particularly box, rosemary and juniper. Hampton Court Palace was noted for such work at this time. Knot gardens and parterres featuring thrift, hyssop, lavender, germander and thyme, together with mazes, were fashionable in the gardens of large country houses and many examples still exist today such as Hever Castle in Kent. It wasn't until the 18th century that many other evergreens such as holly, yew, bay, laurel and phillyrea were used to a greater extent. However, by the second half of the same century, topiary was regarded as old-fashioned or in bad taste and the art stagnated for nearly 100 years. The Victorians, as in so many things, became enthusiasts and with improved communications, the exchange of ideas and the expansion of trade, new techniques and plants were imported.
The social changes brought about following two world wars, such as the break-up of large estates, did not encourage further development of topiary in the first half of the 20th century. However, with more people owning their own homes, a better knowledge of the craft, a wider choice of plants, including many deciduous types and tools which make for ease of maintenance, topiary and plant sculpture is again enhancing increasing numbers of gardens.
PUBLIC & TRADE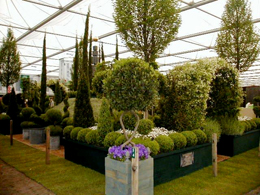 General Terms of Business
Prices shown on the website are inclusive of vat at the appropriate rate unless otherwise stated.
Prices and sizes shown on the website were correct at the time they were entered onto the website. However the current prices and sizes may differ as the stock is constantly changing and so are the prices.
Although we are able to arrange delivery to all parts of the UK, the prices on the website do not include delivery or any packing costs. A separate charge will be applied for delivery, please ask for details.
We accept orders by post, telephone, facsimile and email. We may ask for a deposit or advance payment before proceeding with your order.
Payment for invoices must be received within 28 days from the date of invoice.
Payment can be made by cash, cheque, credit or debit cards and BACS
We reserve the right to charge interest on all overdue accounts, and will use the courts to recover unpaid/outstanding amounts.
All items leave the nursery in good condition and with sufficient packing to assist safe transit. Goods must be checked before the carriers note is signed and any damage must be notified to the carrier at time of delivery. Rights to compensation will be forfeited if goods are signed for as Ďuncheckedí.
Customers become liable for all carriage charges once their order has left the nursery.
We are able to supply plants to countries within the E.U. Please ask for details.
All goods remain the property of the Romantic Garden Nursery until paid for in full.
Information for wholesale customers
Our general terms of business apply but in addition we ask you to also note and abide by the following points:
Orders must be confirmed in writing, by post, facsimile on headed paper or email, and we may ask for a deposit.
A discount will be offered from our normal retail price, please ask for details.
Any prices quoted will normally be excluding vat and ex nursery.
Invoices must be paid within 28 days of date of issue
Payment can be made by cash, cheque, debit card or BACS. Credit card payments are not accepted for wholesale invoices.
We reserve the right to charge interest on all overdue accounts and will use the courts to recover unpaid invoices.
All goods remain the property of The Romantic Garden Nursery until paid for in full.