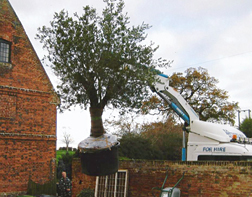 We are often asked to visit customer's gardens with the idea of assessing the current situation in order to offer advice about the type of plants which might be suitable and grow well for the site in question.
We cannot offer a full design service (with detailed drawings and coloured sketches with long planting plans -there are many who specialise in that field), but if you seek informal advice on plants and planting we may be able to help. We will visit your site and listen to what you have in mind, and then discuss some options on how best to achieve it, and what plants to use.
As we are a small team we do not have the time to offer a planting service, but can suggest local landscapers who might be able to plant for you.
If you would like us to visit you a fee will be charged as a contribution towards the time spent on site plus travelling expenses, which will depend on the location.
The fee can be redeemed in full in the form of discount from subsequent plants orders, up to a maximum of 10% on any one transaction. Part redemptions are available pro-rata.
Please contact us if you would like further details or to request a site visit and we will send you a form to sign.