Pleached trees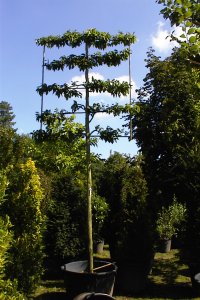 Pleached trees trained on cane frameworks are available in many different plants types. In addition to the popular Carpinus betulus (hornbeam) and Tilia (lime) we can quote for a wide range of deciduous materials including Crataegus (hawthorns) and Malus (both dessert and crab apples). Evergreen material is also readily available, for example, we may be able to quote for Ilex 'Nellie R Stevens', Olea, Ligustrum lucidum, Magnolia grandiflora and Photinia x fraseri 'Red Robin' and Quercus Ilex plus others.

They come in mant different formats with differnt length stems, various frame sizes and from freshly pleached to mature plants which have already been pleached for several years.

It is impossible to list all the options available, so here are some examples, and please ask for details on the type of pleached trees you are looking for.

•  Carpinus betulus

prices start at : £
<< BACK TO RESULTS