Terracotta pots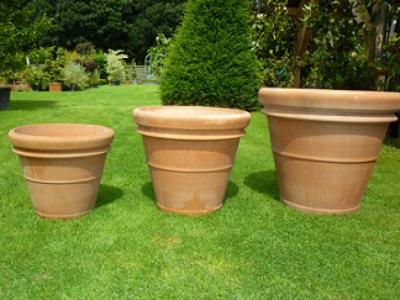 We stock a traditional classic design of terracotta pot made in Tuscany, Italy.
The classic design means they look at home in most gardens and settings, and the shape will allow plants to be taken out and re-potted without having to break the pot to get the root ball out.
We have not experienced frost damage to these pots, and have had some planted up which have come through the past two winters when the temperature has been as low as minus 18 deg.C

This design of terracotta pot is available in the following sizes (internal diameters).
Current prices incl vat.

We can arrange delivery of pots to you, please ask for details.
•  40cm diameter

prices start at : £45.00
•  50cm diameter

prices start at : £79.00
•  55cm diameter

prices start at : £105.00
•  60cm diameter

prices start at : £139.00
•  70cm diameter

prices start at : £269.00
•  80cm diameter

prices start at : £446.00
•  90cm diameter

prices start at : £700.00
•  100cm diameter

prices start at : £1035.00
<< BACK TO RESULTS